Optimum mental and physical performance at any stage of life requires a balance across the 4 Pillars of Health.  This concept forms the basis of the workshops and talks I deliver to sports clubs, schools, gyms and community groups. Please get in touch to learn more.
4 PILLARS OF HEALTH
PROGRAMMES
Everyone wants to enjoy optimum physical and mental performance at all ages and stages of life.  The outcome depends on nutrition choices, sleep quality, movement and self-care practices.  
If you would like to support your club members, students or your local community and provide information about how powerful diet & lifestyle choices are on health and performance, please get in touch. 
GET IN TOUCH
For anyone looking to get back on track, I would highly recommend the Re-Invent programme and working with Louisa to succeed in achieving sustainable long term change.

Olwyn, Dublin 13
The changes that you helped me to make were simple and so obvious that it made it easier to get to where I am now, down in weight by 5kgs in as many weeks, (heading slowly to my ideal weight), eating healthy but tasty food, less stressed and sleeping well!

Paul, Dublin
What I enjoyed most was that I quickly saw results, I felt better, I lost the right amount of weight, I was a lot calmer and less stressed and was enjoying my life more! I am definitely living in the moment!

Emer Crowley, Age 53, Dublin 13
The Enriched programme helped me regain my power over sugar and get rid of my afternoon energy slumps. Louisa's guidance, advice and motivation helped me to eventually win my war on sugar and its manic cravings.

Sarah, Dublin
Before I began working with Louisa on the Enriched Programme, I was not sleeping very well. I was feeling more stressed and eating lots of sweet food to give me energy. Now, I am drinking more water, sleeping better, less stressed and am using the calm app every morning for my meditation.

Lorraine, Age 53, Dublin
Louisa was also very focused on helping to reduce and manage my stress levels which was something that I had not initially seen to be a problem!

Bronagh, Dublin
I am more content, have much more energy, sleeping very well, managing stress much better, eating healthy food and losing weight.

Sheila, Age 67, Dublin 13
Group

Programmes & Events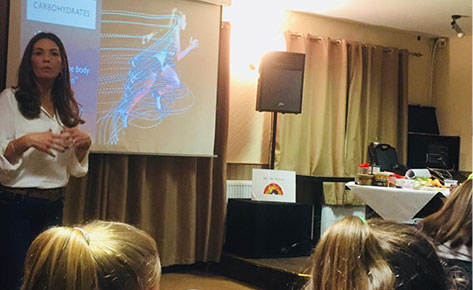 EVENTS
Delivering presentations on a Nutrition or Lifestyle topic of particular interest to your community group, association or at a special event.
MAKE ENQUIRY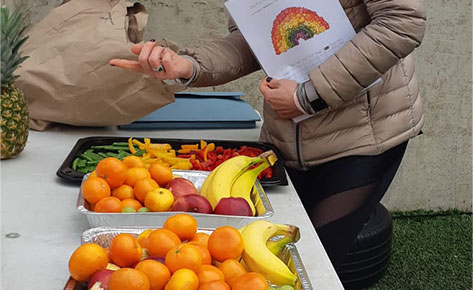 SPORTS CLUBS & GYMS
Support your members with workshops and presentations on how nutrition, sleep and selfcare can enhance physical performance.
MAKE ENQUIRY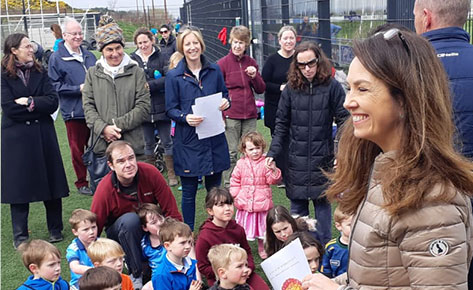 SCHOOLS
Providing children and young adults with nutrition and lifestyle information to build the foundations for a healthier future. 
MAKE ENQUIRY
Whether your goal is to lose weight, manage stress, improve sleep, mood or energy, achieving a balance across the '4 Pillars of Health' is key. These pillars are intimately related. As a result, when it comes to your overall health, you will only ever be as healthy as your weakest pillar. My 360 degree approach shows you what changes will deliver this balance so that you can achieve your goals and experience an uplift in overall health.
Get in touch to find out how I can support your organisation and its members
GET IN TOUCH